Geralda Nhaga Caetano's story is that of many other women in Guinea-Bissau. Aged 38 and with four children, she is using her creativity to get ahead in a country where, all too often, opportunities for women are scarce. Women's participation rate in the labour market is 60 per cent, compared to 70 per cent for men, and when they do manage to enter the workforce, they often do so without pay, according to a recent vulnerability study published by the UNDP country office. Geralda, moreover, lives in Cacheu, the region where the lack of employment is most pronounced, at almost 25 per cent.
A native of the city of Bula, Geralda is a baker by profession. She has no specific training, her knowledge is passed down from mother to daughter, the magic and chemistry of cooking is transmitted from generation to generation. In addition, she is dedicated to the transformation of local products and the manioc and maize flours that will later be used by bakers and confectioners like her to make their products pass through her hands. The flour processing centre of the Bo Baluran Association, which she represents, is her centre of operations. "We buy raw materials from local farmers, we work with 90 suppliers from three different villages near Bula," she says. This collaborative effort that helps build an economic ecosystem based on the production and distribution of products from the region is one of the objectives of the "LIFE 3×6: Local Innovation Fund for Entrepreneurship" project, implemented by ENGIM with the support of UNDP Guinea-Bissau and funding from the government of Japan, of which the Association is one of the 45 final beneficiaries in the Cacheu region.
Neftali Marcelo Bedam-Mone is another of them. In a space not far from where Geralda and her colleagues are working, they also work with moulds and chemistry also plays its part. It is not about cakes, but it is something fundamental to people's lives: the blocks that give shape to buildings in the city. At the age of 29, Neftali set up his own business and now, four years later, he is running it with five people under him and a clear strategy that makes his work much easier. "I was working as an employee doing the same thing, but I decided to take the adventure and start doing it on my own," he explains. During this time, he had some materials that he has now managed to complete with the project funding. "We have bought tools such as shovels and carts, materials such as sand, cement and gravel, and we have a reserve of money to pay for the labour". The quality of their product is the top priority and negotiating with local suppliers is key. "The sand is better here than in Bissau, for example, and now I have a cement supplier who offers me better quality for the price I used to pay for worse cement," he reflects, "and also a cement plant that I managed to buy with co-financing". Synergies are essential and the LIFE project funding ensures the continuity of Neftali's business. "We are now only three block manufacturers in Bula, because often the producers can't keep going if they run out of materials and can't afford to buy them," he explains.
Neftali, the nine members of Bo Baluran and 120 other people from the region have participated in entrepreneurship training prior to the final selection of the funded business ideas. Those who managed to get the grant are seeing their business evolve little by little. "We have learned many things, we now know how to work to increase our sales. We have already hired four people in the village of Dungor to help us with the transformation and another one here in Bula to help with the production of cakes. The goal is to continue to grow and employ more people," Geralda explains with determination. "Now I can work more easily", Neftali concludes. The tour of their work spaces is a reflection of the clarity of the ideas that lead them to make decisions and take small steps to achieve great progress. "We were able to move from chicken farming to flour processing because we were able to obtain financing that allowed us to buy the necessary machinery," she says. The high rate of animal diseases is, in fact, the most frequent shock people face in the Cacheu region and increases the vulnerability of families when there is a dependence on livestock rearing as the only source of income. The association now uses this machinery and rents it out to others in need. The wood-fired oven for the pastry leg came later and the water tank, solar panels, fridge, fans and plastic tables that the LIFE project has allowed them to finance come to complete a multi-faceted project. "We have our sales space here, we also sell in other cities and we want to open a small restaurant for which we already have many of the equipment we need".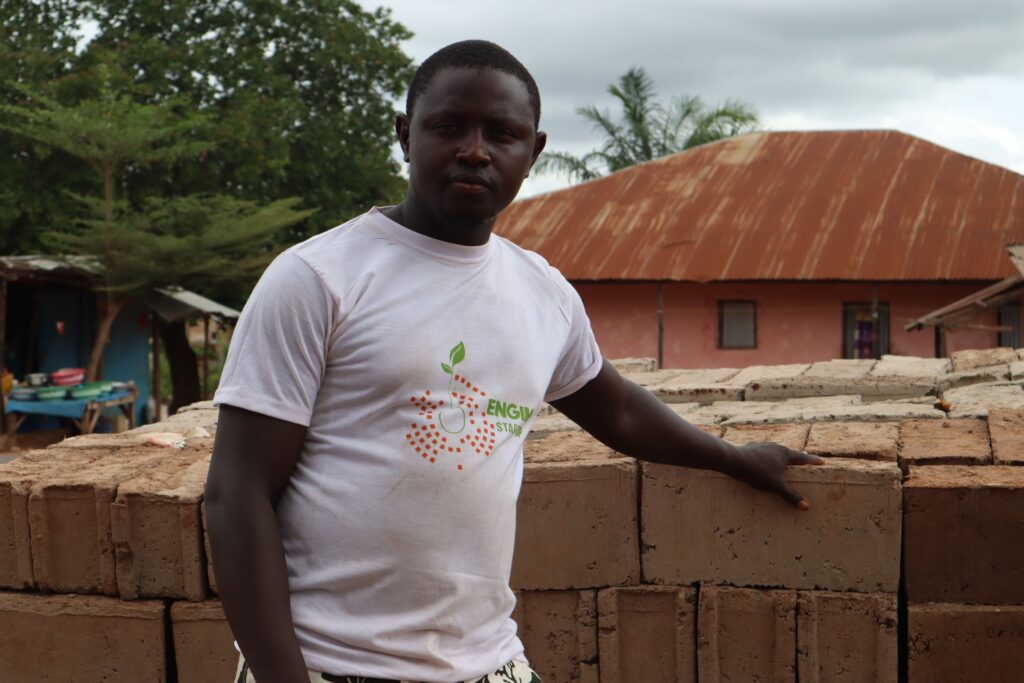 The commitment of people like Geralda and Neftali is not only to the project, but also to their community. Idene Peres, one of the ENGIM monitors who accompanies and supervises the project participants, emphasises the "very positive" impact of LIFE on people's lives. "It makes perfect sense for the project to be implemented in the Cacheu region because people here have a lot of difficulties," he says, "and the beneficiaries want to be able to employ young people and produce quality products for their neighbours". This collective effort contributes to building a less vulnerable and stronger region, capable of supporting the sustainable development of the country.
Article by Elena Touriño lorenzo