Just before the first rains of 2023 and in the midst of the campaign for the legislative elections scheduled for June, the road between Bissau and Gabu is busier and busier than ever. On the way, as one approaches what is the furthest mainland region from the country's capital, one finds farmers working in the rice fields, women vendors with their stalls in the markets of the different towns and villages, goods and people moving in all directions and many cars hawking the promises of the different political parties.
Gabu is a whirlwind of people, with the market in full swing. On one of its quieter streets is Sarita Paulo Alvarenga's restaurant, which is a haven of peace amidst the morning hustle and bustle of the city. "On weekends it's quieter," says Sarita, "but during the week a lot of people come here". She is originally from the neighbouring region of Bafatá, but came to Gabu four years ago to pursue her passion for cooking and her dream of owning her own business. "I used to work as a cook in a public organisation in Bafatá but I left to come and work with my boss. Things didn't work out so well and I decided to open my own space".
A few months ago, the project "LIFE 3×6: Local Innovation Fund for Entrepreneurship", which the NGO ENGIM is implementing in the regions of Cacheu, Bafata, Gabu and Bolama-Bijagós with the support of UNDP, crossed Sarita's path to change her life "100%", she says proudly. "I have learned many things that will help me to improve my business and I got funding to improve the space and to buy materials that I needed but could not afford". Tene Baldé has been Sarita's right-hand woman in the kitchen for the past three years. In her constant comings and goings to tend the cookers and serve the tables, she corroborates her partner's words. "This project has changed everything for us, now we can work much better". A solar-powered electricity generation system and a freezer will help improve the quality of service offered by Sarita and her team.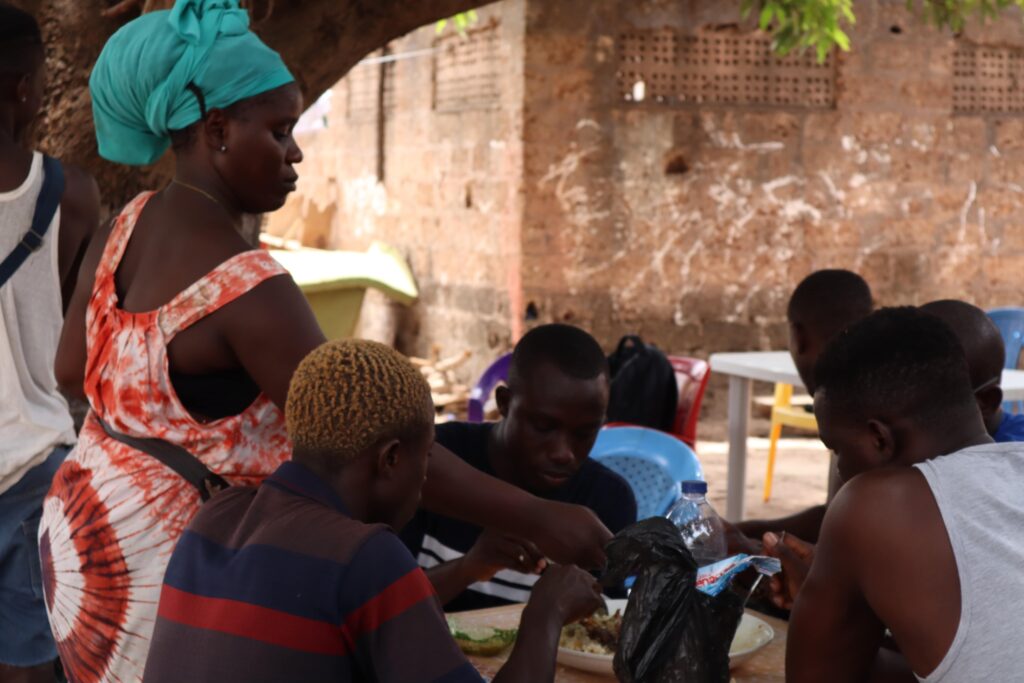 Every day Sarita cooks and serves 15 kilos of food to feed an average of 50 diners. In addition to Tene, four other young people work with her. "Before the project I managed to employ three people and now I have had to hire two more", she explains with satisfaction, "and the aim is to continue growing to be able to employ more people". According to Alfredo Sobrinho Malú, LIFE's local supervisor in the Gabu region, "the project helps a lot because people face many difficulties here. We work mainly with women, young people and people who are literate but do not necessarily have a high level of education".
Of the 289 people who applied to participate in the ENGIM initiative, some were residents of Bissau who saw the project as an opportunity to improve their living conditions elsewhere, which makes things a little more complicated for the local population. "We have privileged proposals from people living in the regions with their business ideas here, in order to contribute to their socio-economic development", explains Malú. 120 people participated in the entrepreneurship training and pitch phase, 89 took part in the diagnostic phase and from there 45 are finally receiving funding. Nivaldina Neves Cá is a monitor in the project and she accompanies 12 of these 45 final beneficiaries. "There are various business ideas: from selling clothes to planting trees for sale, including the creation of a kindergarten. There are also stationery shops, fish shops and restaurants, such as Sarita's".
The LIFE project is contributing to improving the living conditions of people like Sarita and to boosting and diversifying the socio-economic ecosystems of the regions where it operates, thus contributing to the long-term sustainable growth of Guinea-Bissau.
Article by Elena Touriño lorenzo